5 Ideas for Small Laundry Spaces
While everyone likes a large laundry area, not every home has the space for such luxuries – especially in petite homes and apartments. To meet all your needs in terms of storage, bench space and functionality, how can we fit it all into one small space, while maintaining style?

---
1/ FUNCTIONAL SPACE & LAYOUT
First of all, consider your routine and what is important to you: How often do your do the laundry? Do you prefer a dryer or to hang washing out? Do you need to hang clothes inside during Winter? Do you need space to fold washing? Use these considerations as a guide to begin creating a laundry space that best suits you. This will save time and make chores much easier.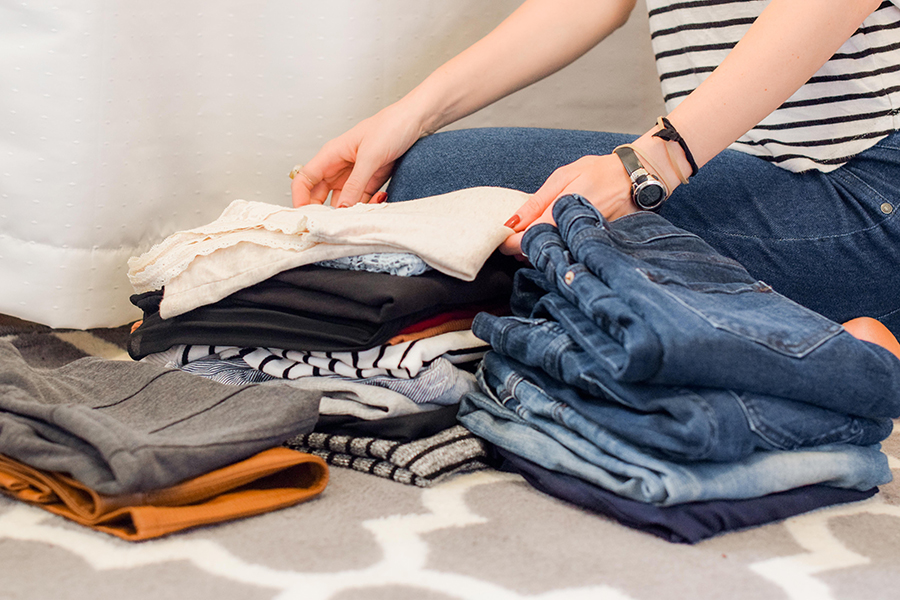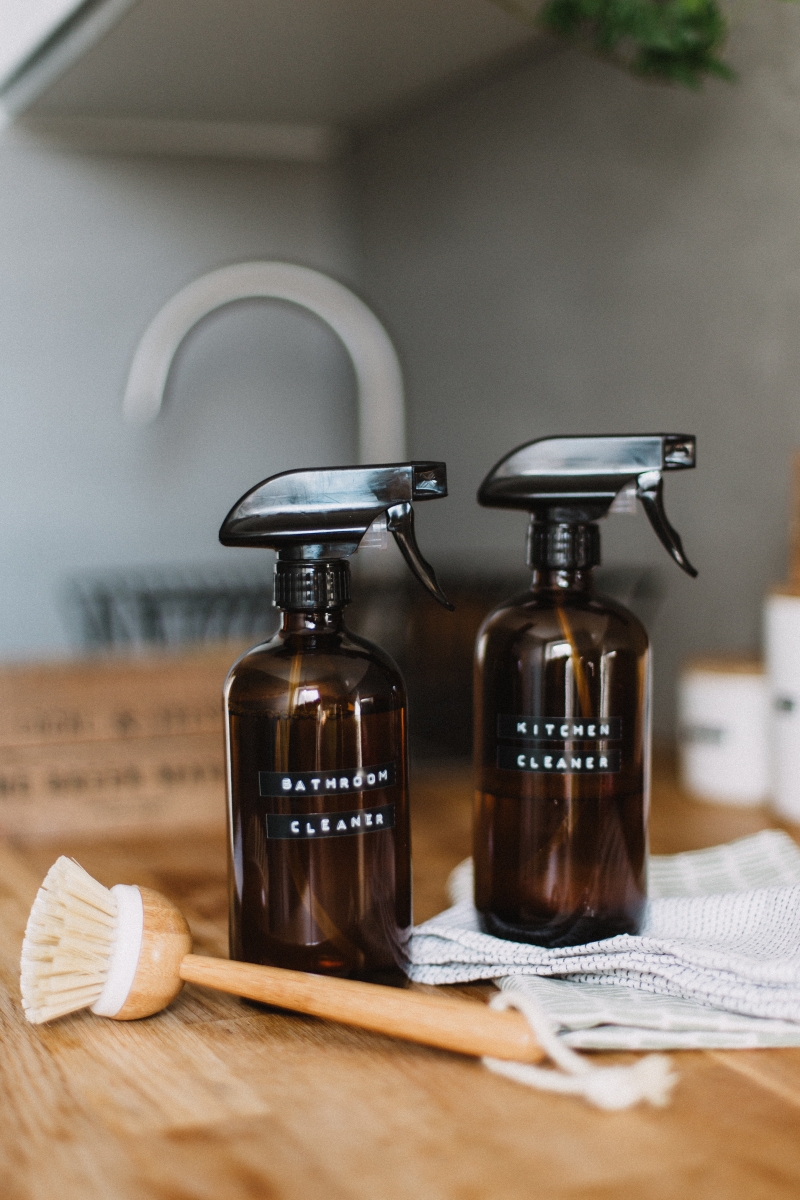 Left: Photo by Sarah Brown on Unsplash
Right: Photo by Daiga Ellaby on Unsplash

---
2/ INTEGRATE SPACE
If you don't have space, create the space! Integrate your laundry into existing areas, such as the bathroom, cleaning closet, hallway closet or even the kitchen. Remember to always follow your guide – choose the best space that minimizes movement from room to room, as well as ticking all your boxes.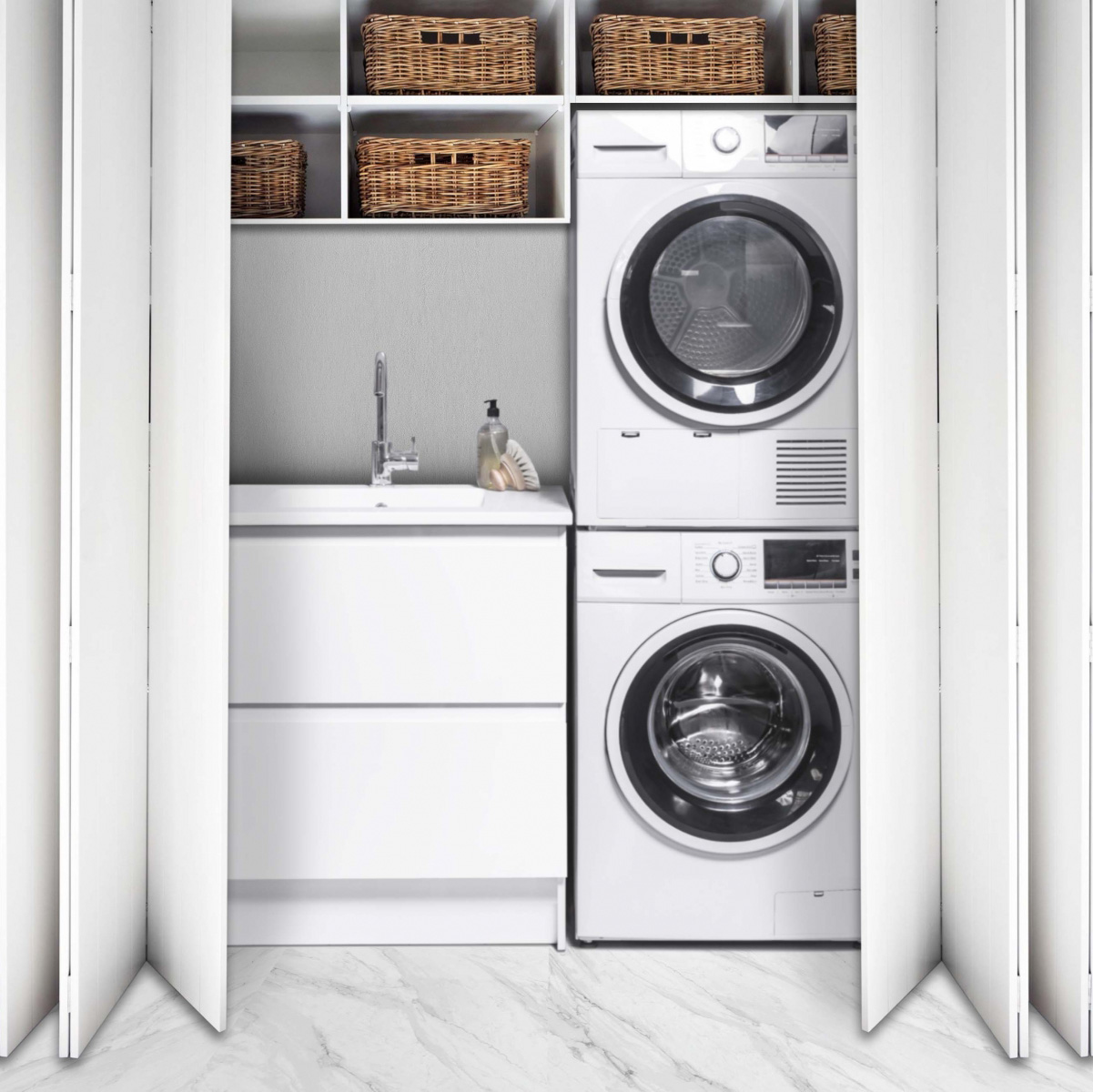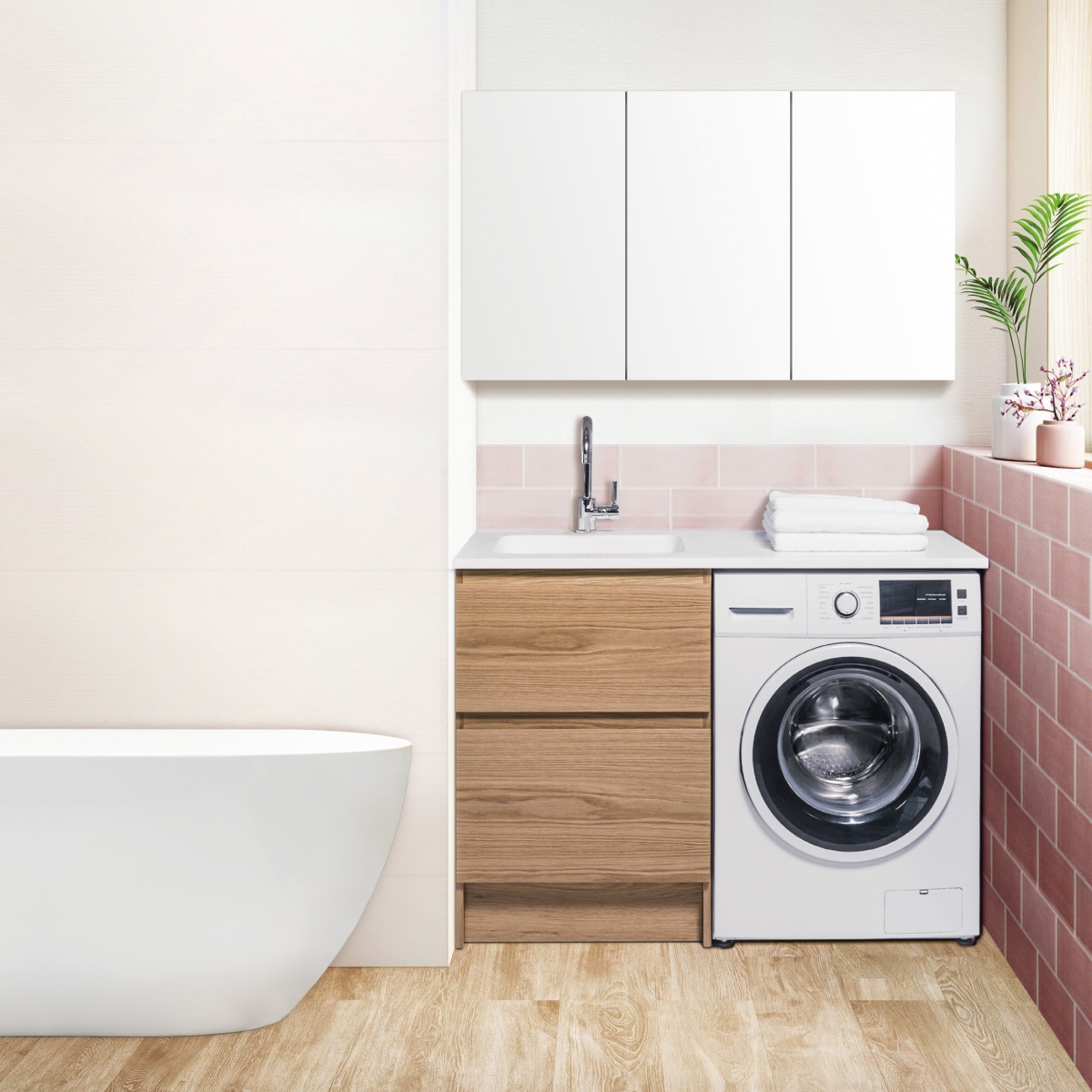 Left: 750 Laundry Cabinet in White (LUA75 + MP803)
Right: 600 Laundry in Natural Oak with Right Overhang (LUA60T + ACL120R + MP803)

---
3/ UTILIZE EVERY SPACE
Be creative and utilize every single space from floor to ceiling.

Storage Spaces?
Add wall-hung cupboards or floating shelves to create more storage space. You can also have mirrored cupboards to give the illusion of a bigger space. If your laundry room is in a cupboard, try attaching internal shelves and hanging hooks on to cupboard doors. Organize items into baskets with tags, or clear containers.


Left: 750 Top Cupboard in Dark Oak (LTT75T)
Right: 600 Wall-Hung Floating Shelf (S60T)
Ironing Board?
Get a wall-hung foldout ironing board that can fold away. If you prefer a hidden one, try a pullout ironing board that integrates into a drawer.
Laundry Drying Rack?
Try a wall-hung foldable rack or a retractable clothesline, so you can easily put it away when not in use. There is even a ceiling hanging laundry rack with a pulley system, beautifully crafted by George & Willy from NZ, perfect for a small space yet stylish when not in use.


Bench Top?
The most common layout is having front loader appliances side by side, to give you plenty of working space. However, not everyone has the space to fit both, and you may want to fit a sink in as well. Consider combined laundry appliances that do both; or have your dryer wall-mounted above your washing machine, so that you can have bench space in between. Also, a sink cover (in the same material as your bench top) will greatly extend working space.


Left: 600 Laundry in Natural Oak with Right Overhang (LUA60T + ACL120R)

Middle: 750 Laundry Cabinet in White (LUA75 + ACL135R)
Right: 1200 Laundry Cabinet in Charred Oak with Right Overhang (LUA75M + ACL180R)

---
4/ HIDE AWAY
"Out of sight, out of mind" – Make the space feel bigger and less clutter by hiding it away with a bifold or sliding door. If you are on a tight budget, you can try install a curtain railing from ceiling to floor. Use soft, white curtains or similar colours to your walls to create the illusion of extra space.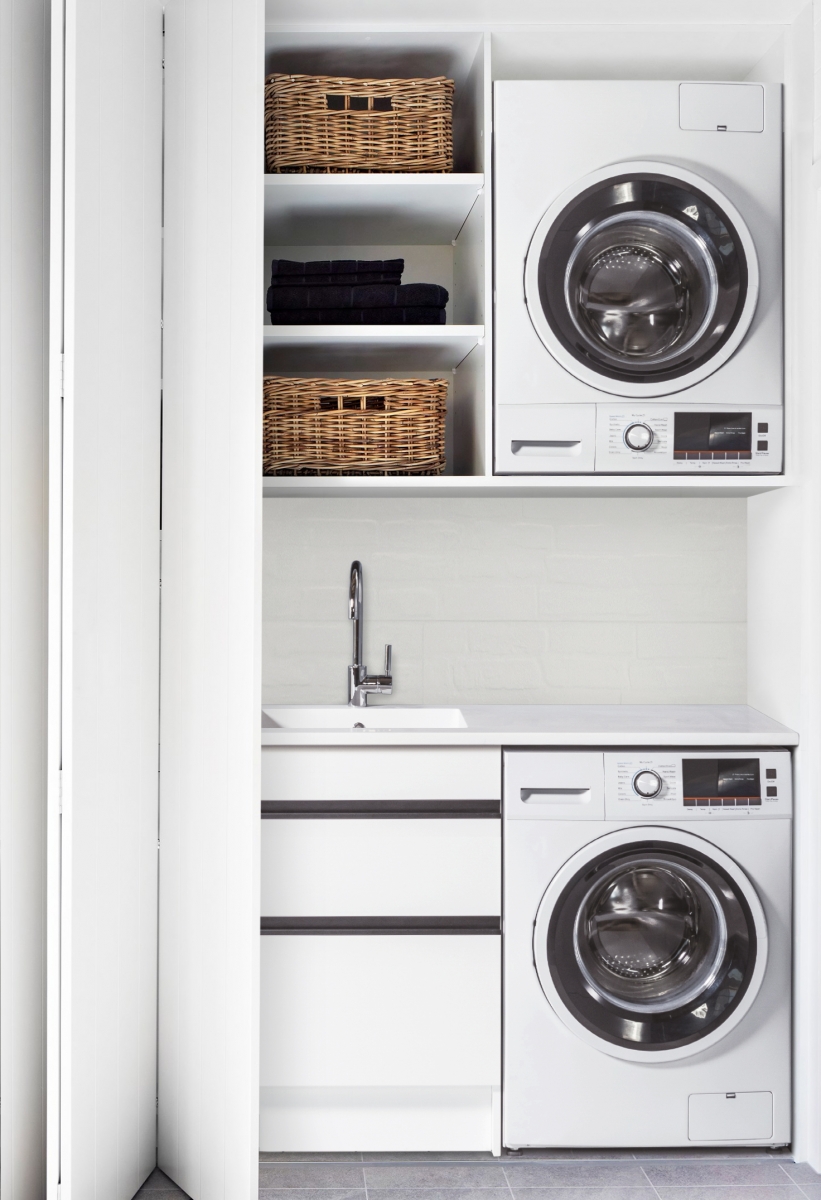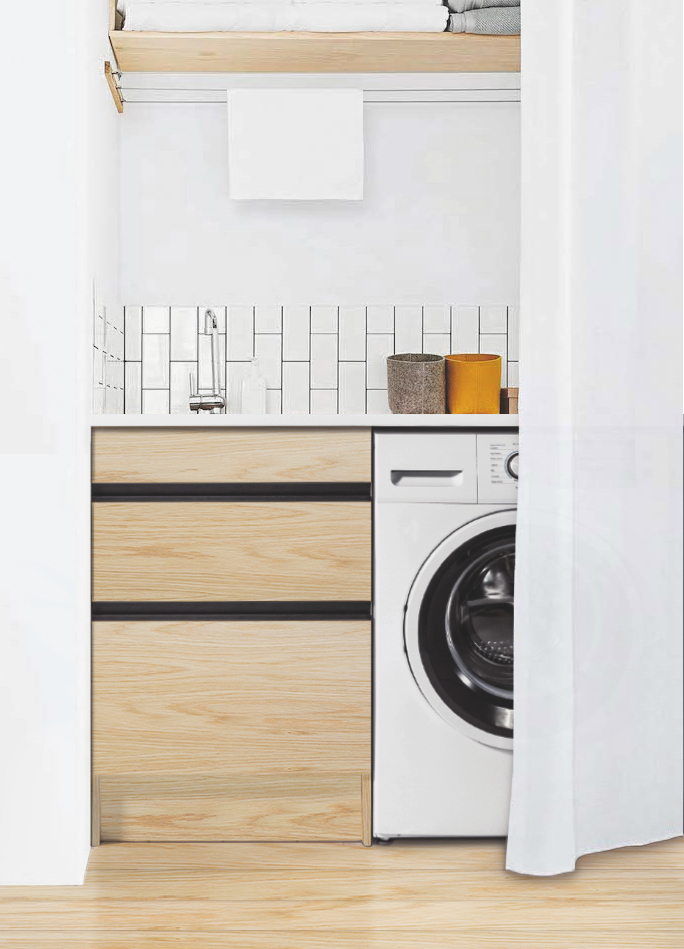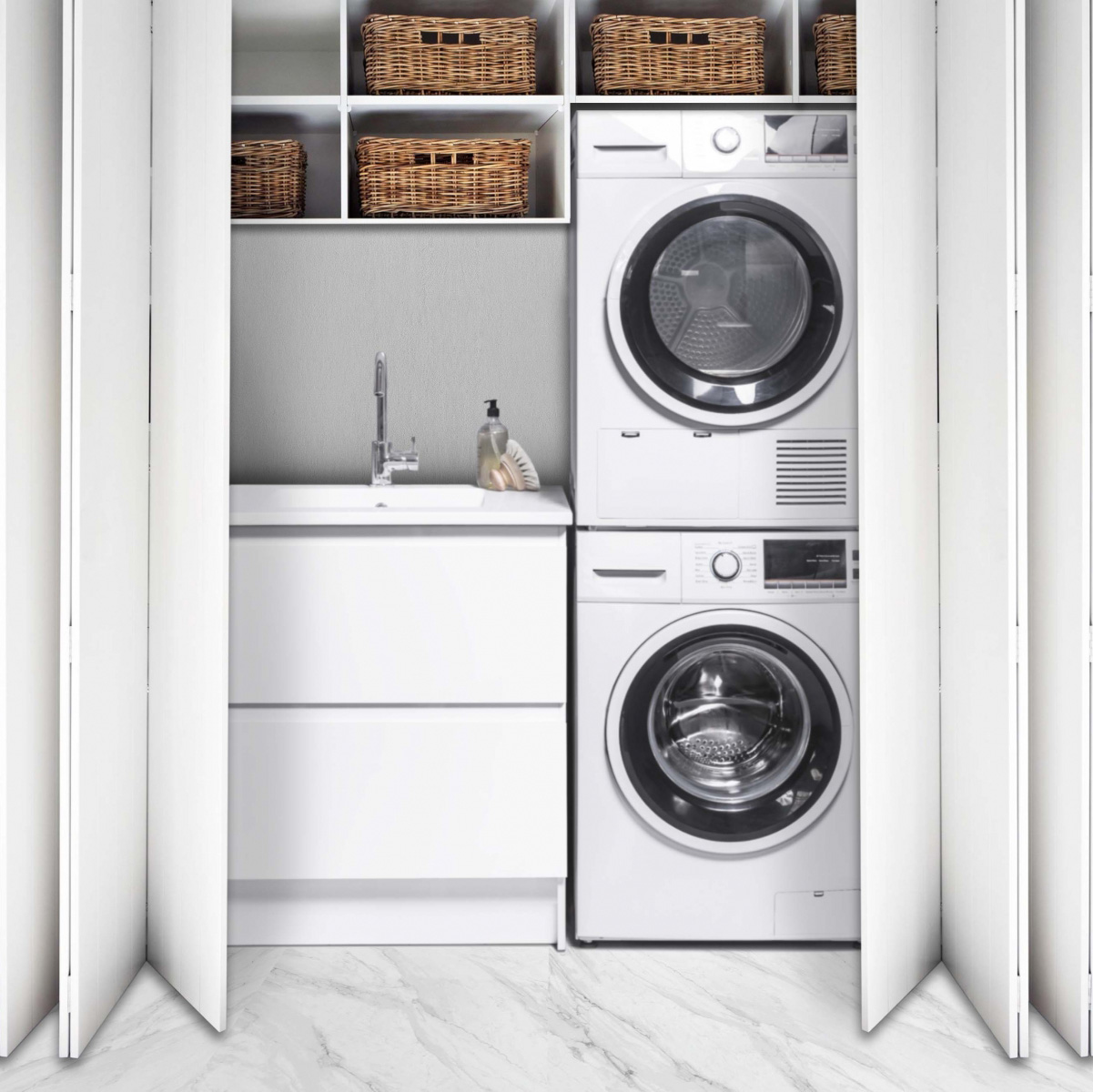 Left: 600 Laundry in White with Black Recessed Handle & Right Overhang (LUA60 + ACL120R + HLB)
Middle: 600 Laundry in French Oak with Black Recessed Handle & Right Overhang (LUA60M + ACL120R + HLB)
Right: 750 Laundry Cabinet in White (LUA75 + ACL135R)

---
5/ GO NEUTRAL
Neutral paints and timbers make space feel brighter and bigger. It is also the best canvas for adding your own décor, with the ability to easily change it up in the future.