Warranties
General Warranty Statement
Smail & Company Limited (Smail & Co) warrants that in the manufacture of its Bath Co products only high quality workmanship and materials have been used. The following warranty applies to Bath Co products supplied to customers in New Zealand.
Subject to the warranty conditions, in addition to any other right or remedy that the purchaser may have under any relevant consumer protection legislation, Smail & Co undertakes to either repair or replace (at its discretion) any Bath Co product if that product contains a material defect with either materials or workmanship which arose in the course of manufacture.
Warranty Periods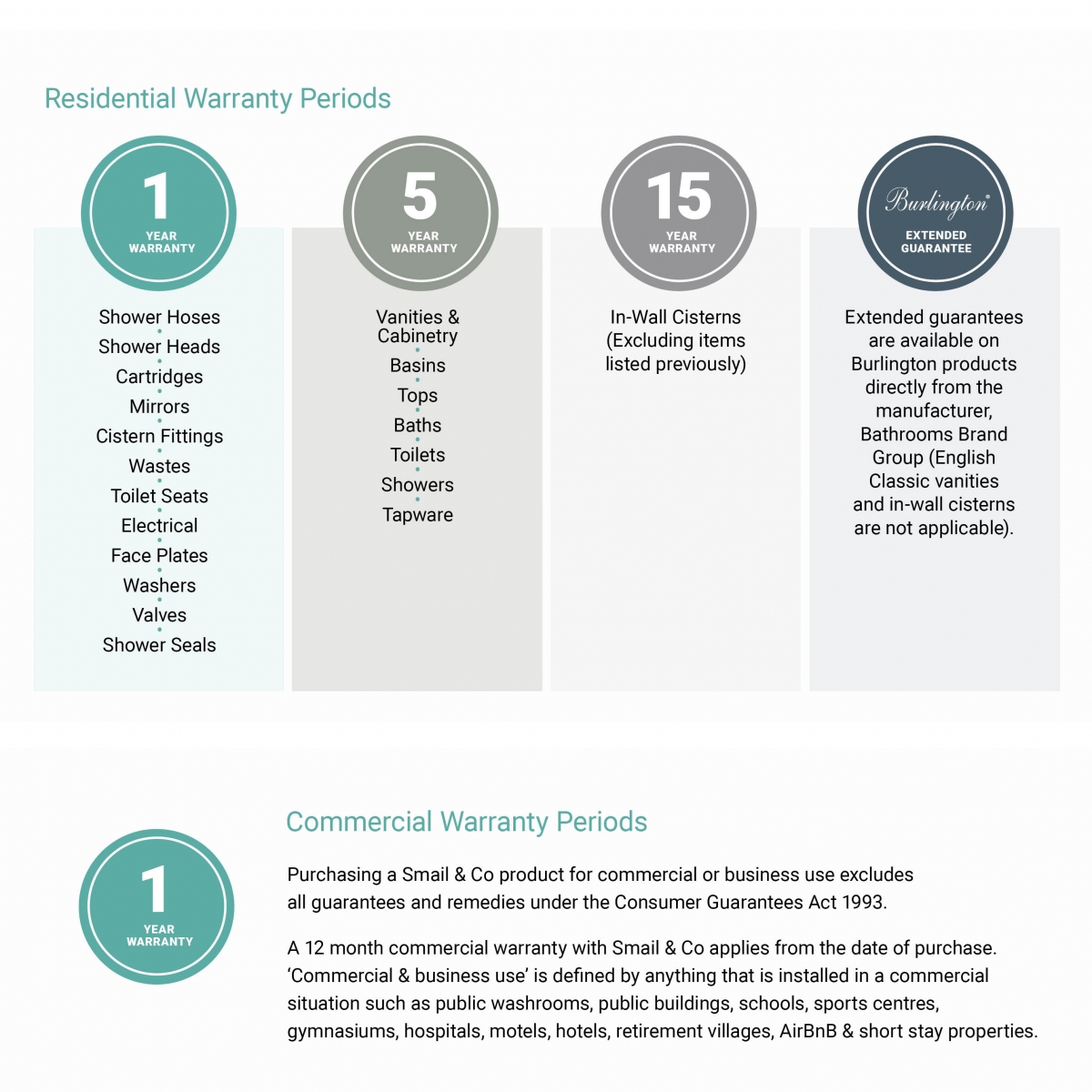 Warranty Conditions
Smail & Cos domestic/residential warranty and commercial warranty is subject to the following conditions:
Proof of purchase (such as invoice or receipt) must be provided by the initial purchaser. This warranty is not transferable.
All Bath Co installation instructions must have been strictly followed and the product must have been installed in accordance with the relevant New Zealand Building/Plumbing Codes by a certified building or plumbing practitioner (as appropriate for the product).
The Warranty applies only within New Zealand and only to the original purchaser.
The product must not have been subject to excessive wear and tear. The warranty only covers normal use and typical wear and tear.
The product must not have been tampered with or repaired in any way other than in accordance with this warranty.
The product must not have been damaged by misuse, accident or neglect, including water damage, sunlight, excessive water temperature, humidity, direct lighting or other adverse environmental conditions.
Harsh detergents or abrasive cleaners must not have been used on the product and the product must be cleaned in accordance with the recommended cleaning methods.
All warranty covered repair work is to be performed by Smail & Co but Smail & Co shall not be responsible for the cost of removal or installation of the product.
Smail & Co shall make the final determination on any issue or uncertainty regarding the application of this warranty.
If you acquired the Bath Co product in trade (or some other exception exists under the Consumer Guarantees Act 1993 (the Act) then the Act shall not apply.
If the above conditions are not met, the warranty will be null and void.
Smail & Co shall not be liable to the purchaser for any loss, damage (direct, indirect or consequential), cost or expense incurred by the purchaser (including, without limitation, any damage to other products and/or labour costs incurred in the installation, repair or replacement of the product) other than in accordance with the above warranty, under any relevant consumer protection legislation or as consented in writing by Smail & Co in advance of the cost being incurred.
To make a warranty claim please return to/contact your place of purchase with a valid sales' receipt and photographs of the issue.