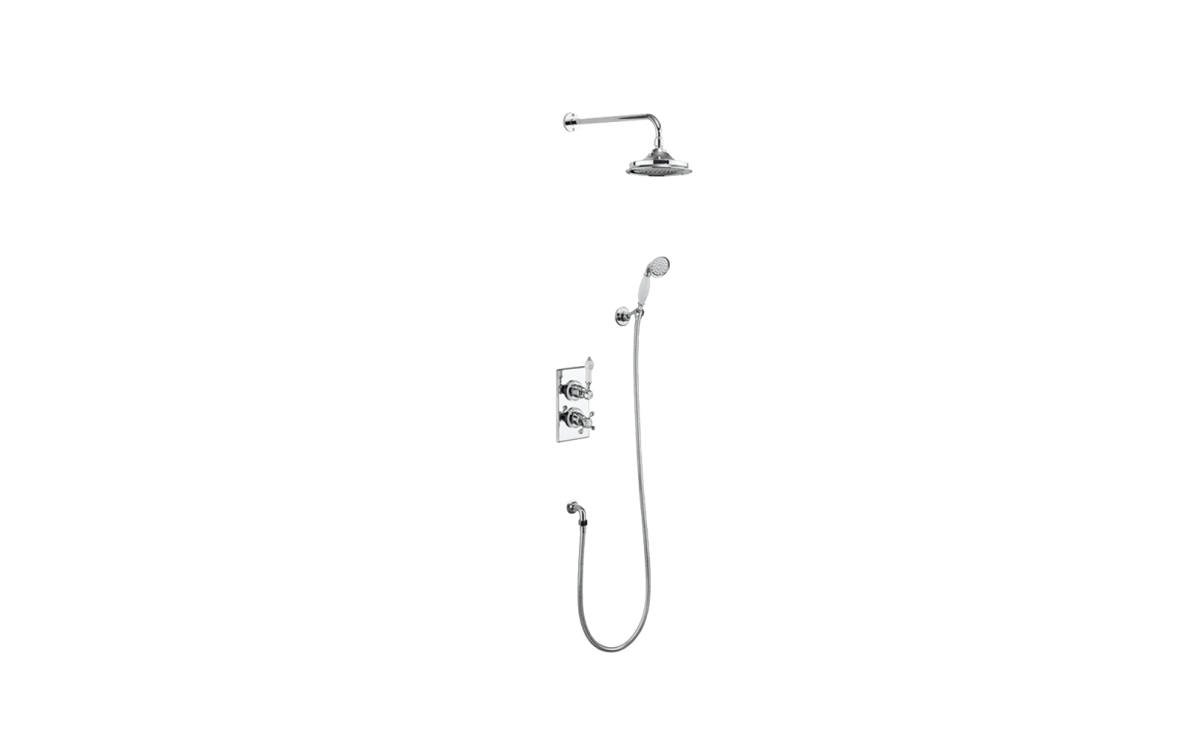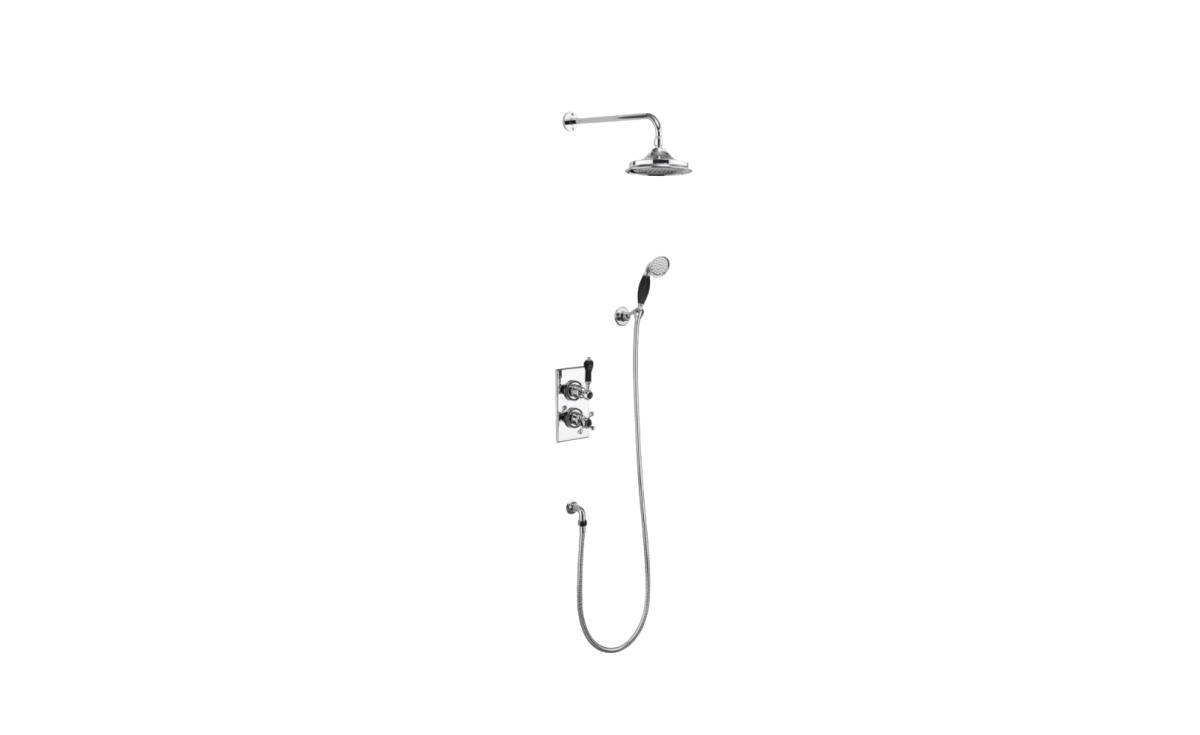 Trent 3: Thermostatic Two Outlet Concealed Divertor Shower Valve, Fixed Shower Arm, Handset & Holder
From $1,965.00
For pricing and options, refer below
The Range
The Burlington range of showers provides extensive options so you can create a showering solution for your own bespoke setting. Thermostatic valves offer safe and controllable showering for the entire family. Shower valves and brassware features polished chrome, enhanced by timeless white ceramic, to both look fantastic and be ergonomic to use. Designed using the highest quality materials to achieve yesterday's designs with today's technology, you are ensured a great showering experience.
Features:
Trent 3: Thermostatic Two Outlet Concealed Divertor Shower Valve, Fixed Shower Arm with Handset, Holder & Hose
Traditional brass faceplate, Claremont tap with ceramic indice, and ceramic lever available in white or black.
Thermostatic mixing valves blend hot and cold water to ensure constant, safe temperatures.
Burlington uses Vernet wax capsules throughout their showering valves, meaning temperature when showering varies no more than + – 1°C
Quality materials minimise potential limescale, enabling extended lifetimes – Mixer body and handset made of brass.
Large bore shower hose (11mm), hose length: 1.5m
Adjustable fixed shower arm (390mm)
Shower head, choose between a 6", or 9" Airburst.
Airburst shower heads combine air and water for increased pressure - saving up to 33% more water than traditional shower heads. Made of ABS and brass with anti-limescale silicone nozzles.
---

*Non-stock item
**Additional cost
Hot & cold inlet 3/4 female thread
1 star WELS rating
For more detailed information see the Burlington website: www.bbwhitebook.com
Code
Description
Docs
Dimensions W / H / D
RRP
Add
Showers
TR3WH6
Trent 3: Thermostatic Two Outlet Concealed Diverter Shower Valve, Fixed Shower Arm, Handset & Holder with 6" Shower Head (Chrome/White)

180

259

485

$1,965.00
TR3BL6
Trent 3: Thermostatic Two Outlet Concealed Diverter Shower Valve, Fixed Shower Arm, Handset & Holder with 6" Shower Head (Chrome/Black)

180

259

485

$2,063.00
TR3BL9
Trent 3: Thermostatic Two Outlet Concealed Diverter Shower Valve, Fixed Shower Arm, Handset & Holder with 9" Shower Head (Chrome/Black)

236

259

513

$2,120.00
TR3WH9
Trent 3: Thermostatic Two Outlet Concealed Diverter Shower Valve, Fixed Shower Arm, Handset & Holder with 9" Shower Head (Chrome/White)

236

259

513

$2,022.00
Shower Accessories
V23
Soap Basket (attaches to Slide Rail)

135

32

94

$168.00
V33
Slide Rail

150

610

60

$300.00