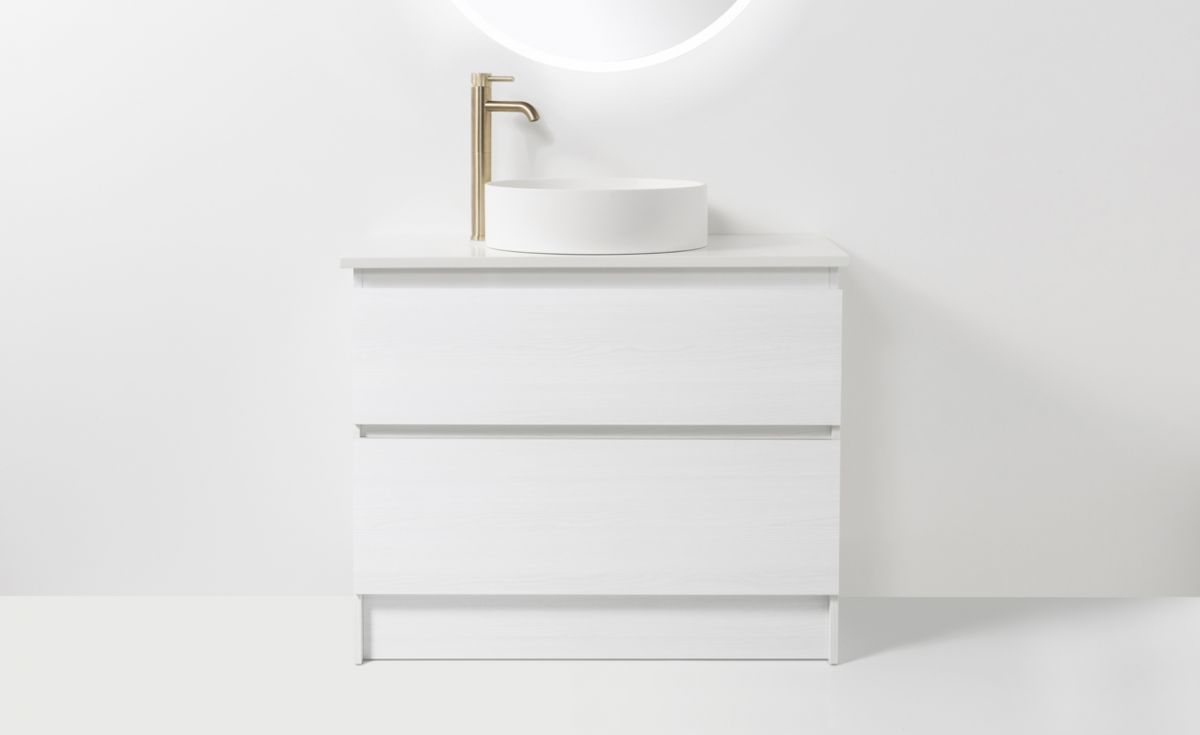 Soft Solid Surface 900 Floor Standing Vanity 2 Drawers
From $1,512.00
For pricing and options, refer below
The Range
With an abundance of personalisation and choice, the Soft Solid Surface is the perfect vanity for creating a designer look in your bathroom. Boasting a white Kordura top, a selection of counter-top basins, plus all the standard features of Bath Co vanities, the Soft Solid Surface will make a statement in your bathroom.
Features:
Available in White paint (Gloss) or Melamine.
The paint used on our products is polyurethane or UV based. It is five times harder and more durable than lacquer finishes.
Our Timber Effect Melamine is a low-pressure laminate.
Soft-close drawer/s with handleless design.
Deeper bottom drawers for more convenient storage.
Made-to-order in NZ.
Available with an Aluminium Rail (Silver or Black) for a contrasting finish. Or pair with Semi Handles (H2)*.
Solid White 20mm Kordura top.
Pair with our Moon counter-top or Sleek Round, Rectangle or Square counter-top basins (included in price of vanity).
---
Optional Extra:
Vanity Towel Rail*
Maximise the space in your bathroom with a vanity towel rail.
---
Note:
Prices quoted are for White Gloss paint and Melamine.
Price includes a Kordura top, selected basin & cabinet, excludes tap ware & accessories.
*Additional cost.
Tap holes do not come pre-drilled – this is the responsibility of the installer, and can be cut with a hole saw, jigsaw or router.
Must use bottle traps to ensure drawers open, we recommend the Traditional Basin Bottle Trap or Flat Basin Bottle Trap.
Must use a contoured waste with all china basins, we recommend Basin Waste with Click-Clack Push Button, Basin Waste with Flip Plug, or Basin Waste with White Plug.
All Products From This Collection